Dog agility is one of the fastest growing dog sports in North America and in the world. There are a number of organizations devoted to the sport, along with numerous training clubs. Owners can also train their dogs on their own. The object of the training is to teach your dog to successfully navigate a series of obstacles around a course as quickly as possible. Working with your dog during the training is a good way to enhance your relationship with your dog.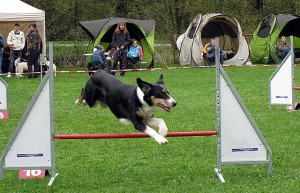 Dog agility is considered a sport. The dog's handler (usually the owner) directs the dog through an obstacle course. Both time and accuracy are important considerations. Dogs are off-leash and no incentives such as treats or toys are allowed on the course. The handler is not allowed to touch the dog or the obstacles. The handler can only use their voice and body signals to direct the dog around the course.
Courses can be run on grass, dirt, or other surfaces. The courses typically become more complicated and the obstacles more difficult as the dog completes each level of competition and tries to move up for a more advanced title. Handlers can have a course map prior to competition to help them plan how their dog will run the course; and they are allowed to walk the course before their dog competes. But the dog cannot check out the course before he competes.
Benefits
Lots of dogs love to run agility, as do their owners. It is a fast, thrilling sport. It takes a lot of work and practice as dogs typically practice on each kind of obstacle before they encounter them in a competition. Although it's not a requirement, most dogs that take on agility are well-trained in obedience, too, since knowing basic obedience commands allows their handlers to be able to give them better directions. Plus, any activity that encourages an owner and their dog to spend more time together is a good way to increase their bond.
Requirements for Certification
Agility organizations offer a number of titles for dogs that complete different levels of competition. Naturally, handlers and their dogs begin at the most basic level and proceed from there. Although the rules and dimensions of the obstacles can vary somewhat, depending on the organization, most obstacles and courses are very similar.
The best way to get started with agility is to join a local agility club. Kennel clubs, training clubs, and other dog groups may either have an agility club or be able to tell you about one. An agility club will already have all of the obstacles and training equipment you need to practice with your dog so you don't have to go out and buy your own equipment. You will also be able to get advice and help from more experienced agility competitors or a trainer.
Once you are ready to enter a competition you can enter a fun match or go to an agility trial and just watch the other handlers and dogs so you can learn. Watch the Novice ring, where you will enter your dog. Be sure to read the rules for each organization so you know what is expected in the class you enter and how scoring is kept. You typically have to have a certain number of "qualifying" runs at each level before your dog gets his title and can move up to the next level. There are enough levels in each agility organization to keep you and your dog busy for a long time!
Organizations that Offer Agility Dog Competitions
The following organizations offer agility competitions in North America:
USDAA: United States Dog Agility Assn – welcomes mixed breed dogs in competition
Registration: $12 per dog, one-time fee for life
PO Box 850955, Richardson, Texas 75085-0955
ph: (972) 231-9700, fax: (214) 503-0161
Internet: www.usdaa.com; E-mail:info@usdaa.com
CPE: Canine Performance Events – new fun organization, started in the midwest but growing fast in the west; titling programs in many games that the others don't include, such as Colors, Wildcard, Jackpot, and BlackJack; registration is not required to compete, but is for titling. Registration: $5 per dog, one-time fee for life; $15 for humans (not required, but gets a hardcover rule and records book).
Contact E-mail: cpe@charter.net
Internet: http://www.k9cpe.com/
AKC: American Kennel Club – Registered purebreds or PAL (enrolled mixed breed) dogs; registration fees vary depending on the club.
580 Centerview Drive, Raleigh, NC 27606-3390
ph: 919-233-9767, fax: 919-233-3627
Internet: www.akc.org; E-mail:info@akc.org
NADAC: North American Dog Agility Council – welcomes mixed breed dogs in competition
Registration: $10 per dog for members, $15 for non-members, one-time fee for life; Dues: $12 annually for humans (not required in order to compete, but it does get you the discount)
HCR 2 Box 277, St Maries, ID 83861
Internet: www.nadac.com; E-mail: nadack9@aol.com
ASCA: Australian Shepherd Club of America – allows mixed breed dogs in all agility trials, runs under NADAC rules, and frequently runs dual-sanctioned events with NADAC; registration not required.
6091 East State Highway 21, Bryan, Texas 77803-9652, (409) 778-1082
Internet: www.asca.org; E-mail:asca@mail.myriad.net
UKC: United Kennel Club, allows mixed breed dogs to compete with Limited Participation registration; most of their agility trials are in the midwest and east.
Registration: $28 for purebred, $30 for LP, one-time fee for life
100 East Kilgore Rd., Kalamazoo, MI 49002-5584
ph: 616-343-9020, fax: 616-343-7037
Internet: www.ukcdogs.com
JFF: Just For Fun – low-key organization that encourages "park-style" competition and league play for fun (as the name implies); no registration is required (or even available). There are currently no clubs in California offering JFF events.
Internet: www.dogwoodagility.com/JFF.htm
Agility is lots of fun for dogs and their owners. If this is something you think you might enjoy with your dog then there is probably a club near you that offers this kind of training. Check it out and see how you and your dog like it.