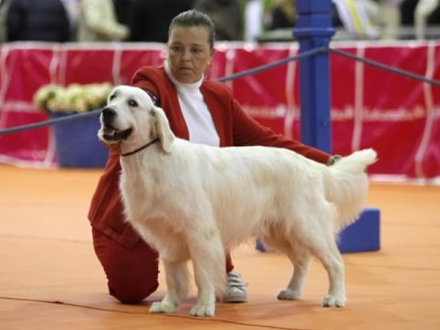 Conformation shows are intended to help breeders compare their dogs against other dogs, and against a breed standard, so they can make the best possible choices for future breeding decisions from a physical viewpoint. A judge who is well-versed in the finer points of a breed, at least theoretically, judges the specimens in each breed. Dogs are usually divided by gender, and also by age (puppy and adult classes), and by other classes. The winners of all the classes are brought together for a Best of Breed judging so the Best of Breed can be chosen. This dog will go on to compete against other dogs in the same group later during the show.
Groups are based on dogs of similar backgrounds. The dogs were originally bred to do the same kind of work so they have basic similarities that allow them to be compared. For example, the Sporting group is made up of Retrievers, Spaniels, Setters and Pointers, and other dogs which were developed to help humans hunt birds and game. The Toy group is made up of dogs which are small and which are usually kept as lap dogs or simply as companions. Group winners are chosen and go on to compete for Best In Show at the end of the show.
At the end of the show one dog is chosen Best In Show. For a variety of reasons the judge may feel that this dog is the best representative of his breed and showed the best when asked to go around the ring.
While there are breed standards which are laboriously set by breed parent clubs, and dogs are measured against them in terms of their physical attributes, there is much about conformation showing that is subjective. Each individual judge evaluates the dogs and chooses the dog that he or she feels best fits the breed standard. It's also true that a showy dog with lots of "pizazz" can catch the judge's eye and win, in spite of having some faults. At the next show, a different dog may be chosen Best In Show.
Dogs must earn a certain number of points at the breed level in order to become a champion dog. Most show dogs are retired once they become a champion, though if a dog is exceptional or if there is financial backing, the dog may continue his show career in order to compete for higher honors such as appearances at the Westminster Kennel Club show or the Eukanuba National Championship show which is by invitation for the top dogs in the sport each year.
Conformation shows and becoming a champion are only one way that breeders evaluate dogs for their potential as breeding dogs. The health and genetics of the dogs are considered in ways such as x-raying hips and elbows and doing other tests appropriate for each breed. And a dog's temperament is considered.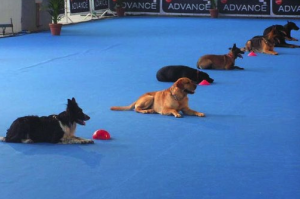 Obedience competitions are held to offer dogs and their owners the chance to earn titles ranging from the CD (Companion Dog) title all the way to the National Obedience Champion (NOC). A dog has to earn each title along the way before he can step up to the next level. There are three levels of competition in obedience:
Novice, for the dog that's just getting started in obedience.
Open, which includes more complicated exercises.
Utility, the highest level of competition.
A dog must receive a qualifying score with a total of at least 170 points (out of a possible 200 points) in each competition. At each level the dog has to complete several different qualifying scores, certified by the required number of judges, before it can complete its title and move on to the next level.