If you have new furniture or you're just trying to make your furniture last, there are some things you can do to protect it and clean it when your dogs hop up with muddy paws.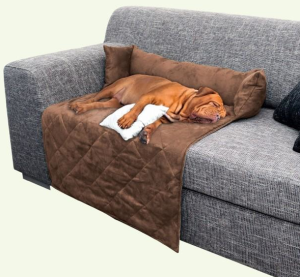 Dog Couch Covers
One of the best ways to protect your furniture is by putting a dog couch cover over it. There are several good brands, such as Sure Fit and Orvis. Some of the couch covers are waterproof, which will obviously come in handy. Covers come in various styles such as quilted, bolster back, throws, bed scarfs, shearling, microsuede, fleece, plush, and others. Prices online start at $59.
The beauty of a dog couch cover is that you can simply take it off and wash it whenever it gets dirty and it keeps your furniture clean and safe. No dog hair on your furniture either. You don't have to fuss at your dog all the time to stay off the furniture, so that's nice for both of you. When you have guests come over you can just remove the dog cover and your furniture is clean and new looking. You don't have to apologize them for getting dog hair on their clothes!
Blankets and Throws
Blankets and throws offer the same benefits as dog couch covers though they are less formal. You can pick them up and put them down anywhere for your dog. If he moves from one piece of furniture to another, you can simply lay a blanket down for him before he lies down.
Blankets and throws are generally a little less expensive than dog couch covers. Good-sized ones start online at around $35.
Cleaning Products
You can also make older furniture or furniture that your dog has gotten dirty look good again by using some upholstery cleaning products. Woolite makes a good upholstery cleaner for fabrics and there are others.
You can keep your furniture looking good by following these tips:
Scotch Guard the furniture when you buy it, if possible.
Clean up spills promptly.
Turn the cushions regularly.
Vacuum your furniture weekly.
Spot clean when necessary.
Avoid sunlight and pollutants.
Have your furniture professionally cleaned every couple of years.
You can remove dog hair and other loose material from your furniture with a lint brush or lint roller. Tape rollers work well for dog hair.
Conclusion
There are some good ways to protect your furniture and keep it looking clean even if you allow your dogs to enjoy it with you. Using a dog couch cover is one of the best things you can do to protect your furniture. Follow the other suggestions here to keep your furniture in good shape and it should last for years.